kippers, Shahi unveil DPL trophy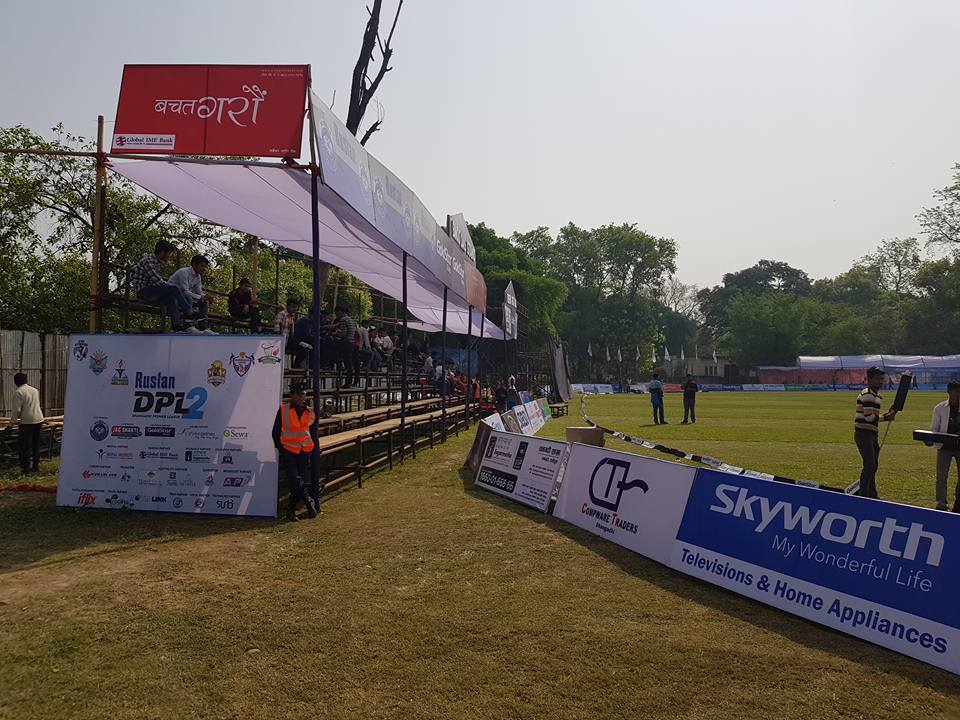 Dhangadhi, March 31
Dhangadhi Cricket Academy President Subash Bahadur Shahi and skippers of the six participating teams unveiled the trophy of the Ruslan Dhangadhi Premier League which is beginning here at the SSP grounds on Saturday.
Biratnagar Kings skipper Paras Khadka, Rupandehi Challengers skipper Shakti Gauchan, Kathmandu Goldens skipper Gyanendra Malla, Team Chauraha Dhangadhi captain Sompal Kami, CYC Attariya skipper Subash Khakurel and Mahendranagar United skipper Binod Bhandari joined Shahi in unveiling the lucrative trophy amidst a programme today. Kings' skipper Paras Khadka — who is also the national cricket team captain — said the tournament would contribute in the development of Nepali cricket. "Tournament like DPL will help in the development of Nepali cricket," said Khadka.
Challengers skipper Gauchan said the tournament was encouraging one for Nepali cricketers, while Chauraha skipper Kami said the team with best performance throughout the tournament would walk away as the winners. "The most important thing is that the tournament has provided us with the opportunity to play the game," said Kami. Chauraha will take on Goldens in the inaugural match on Saturday.
Top two teams will receive Rs 2.5 million and one million rupees respectively. Similarly, teams finishing third and fourth will get Rs 300,000 and Rs 200,000. Player of the series will get TVS Apache 180cc motorbike, while the most valuable player will receive a golden shoe from Gold Star.
प्रतिकृया दिनुहोस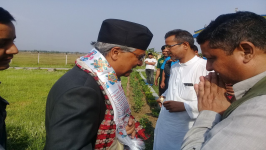 TEKENDRA DEUBA,DHANGADHI. Nepali Congress President Sher Bahadur Deuba today said Prime Minister KP Oli's nationalism has turned lampasarbad (inertia). Speaking at a press meet organised by Nepal Press Union in Dhangadhi airport today, Deuba said that he had talked about the promotion of Gauriphanta border point with India when he was prime minister. "But KP Oli did not take up the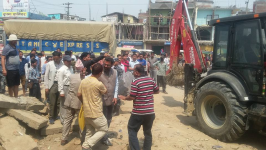 TEKENDRA DEUBA, Excavator knocks down a house at Traffic Chok in Dhangadhi following the Sub-Metropolis's initiative to clear structures obstructing Dhangadhi-Attariya six lane road project on Monday, April 23, 2018. Dhangadhi Sub Metropolitan on Monday has dismantled more than four dozen houses which were obstructing the Dhangadhi-Attariya six-lane road way. Chief of the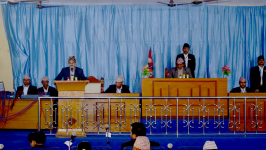 Tekendra deuba, Dhangadhi. Province 7 Chief Minister Trilochan Bhatta responding to queries and suggestions at a discussion on provincial government's policy and programmes for the remaining months of the current fiscal, at the Provincial Assembly in Dhangadi, on Monday, April 16, 2018. Province 7 Chief Minister Trilochan Bhatta today said he would take the opposition parties into