'Impact of COVID-19 Pandemic on SDGs of South Asia' was released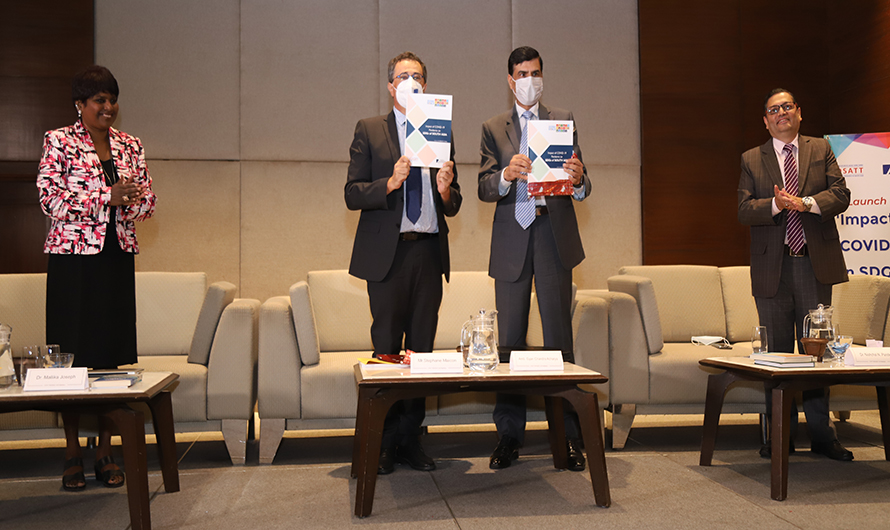 A comprehensive research publication titled 'Impact of COVID-19 Pandemic on SDGs of South Asia' was released on 28 September in Kathmandu. A book launch event was organized by the Consortium of South Asian Think Tanks (COSATT) in collaboration with the Konrad Adenauer Stiftung (KAS). Experts from all over the region, have contributed papers on all the 17 SDGs and how the Covid-19 pandemic has impacted these targets.
The book was jointly inaugurated by Amb. Gyan Chandra Acharya, former Under Secretary General of the UN, and Stephane Maicon, Deputy Head of Mission, Delegation of the EU in Nepal. Amb. Aacharya said, the book has compiled papers on all the SDGs and offers well-illustrated regional perspectives, adding that publication would be useful for all the South Asian governments, SAARC, and the United Nations. He also added, the impact of the pandemic has been relatively more in the least developed and developing countries like Nepal, thus it will be a daunting task for counties like ours to achieve SDGs.
Stephane Maicon, Deputy Head of Mission of Delegation of the EU in Nepal said the EU is always ready to collaborate for the development of SAARC countries, also to help meet the SDGs in the region. He maintained that the targeted SDGs should be achieved by overcoming such pandemics through mutual cooperation. Stating that not only small but also developed countries are facing problems due to the Coronavirus, he said that cooperation of all is essential to beat the global pandemic.
Director of the Center for South Asian Studies and the convener of COSATT, Dr. Nishchal Nath Pandey said, there needs to be a collective approach to overcome the challenges imposed by the pandemic, and SAARC as a regional platform should play an active role and develop mechanisms to tackle the pandemic in South Asia. He also added the current time is to facilitate the health and living standards of the common people by cooperating rather than pointing fingers at each other.
Christian Echle, Director of the Political Dialogue Asia Programme of the Konrad Adenauer Stiftung, Singapore said, this publication is essential as it contains papers on the impact of the Covid pandemic on each of the Sustainable Development targets and its implication for South Asia. He further added that even in the midst of COVID-19, which has been an obstacle to the smooth advancement of the 17 SDGs of the United Nations, it is crucial to accomplish all the goals such as poverty, education, hunger, health, energy, and cooperation.
Paper presenters from South Asia gathered physically and virtually for the hybrid event to discuss the SDGs. From Nepal, Professor Mohan Lohani, Mahesh Bhatta, Ujjwal Upadhyay, Kabi Adhikari, Apeksha Shah, Shreya Khakurel, and Diksha Singh spoke about the study. Similarly, participants from India, Pakistan, Maldives, Sri Lanka, and Bangladesh also presented country perspectives on the SDGs.